Valentine's Day is a holiday that is celebrated by people all over the world on February 14th. It is a day to express love and affection to those who are important in our lives, whether it be a spouse, romantic partner, a family member, or a close friend. While it is a wonderful opportunity to show our loved ones how much we care about them, it can also be a stressful time for those on a budget. Gifts, cards, and dinners out can all add up quickly, making it difficult to celebrate without breaking the bank.
If you are looking for ways to celebrate Valentine's Day without spending a lot of money, there are plenty of options available. Here are 10 budget-friendly ideas to help you celebrate the holiday in a meaningful way:
1. Breakfast in bed. Do some prep work the night before, set your alarm a bit early, and don't forget to make extra coffee. Set the tone for a great day with a few extra minutes with your loved ones in the morning.
2. Schedule a wine tasting. There are some amazing wineries in Ohio and throughout the country. Make a reservation and enjoy the night out. If you find wine classes to be outside of your budget, grab a few different affordable bottles and swirl and sip at home. You might find a new favorite.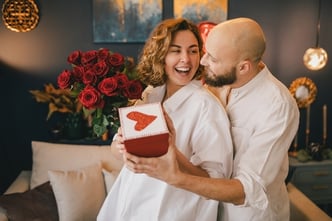 3. Make homemade gifts. Whether it be a homemade card, a piece of artwork, or a baked good, the recipient will surely appreciate your efforts of showing how much you care.
4. Budget-friendly date night Instead of splurging on a fancy dinner out, consider having a simple lunch or dinner that you both enjoy. You can keep it simple with sandwiches and fruit or get creative with a pasta-to-go. One of my favorite date nights was a trip through the Panda Express drive thru, driving somewhere with a scenic view, and watching Netflix via a phone propped up on the dashboard.
5. Take a hike. Is nature your thing? If the weather allows, consider a Valentine's Day hike. Not only is it a great way to enjoy quality time together, it's also free. Be sure to pack some snacks and a thermos of hot cocoa to enjoy along the way.
6. Break out the board games. When's the last time you embraced your youth? Dust off your Scrabble game or grab the deck of Uno cards for a bit of nostalgia. Make it fun by designating a prize for the winner.
7. Movie marathon. This option is great for the whole family. Rent, stream, or dig out some old favorites from your collection. Pop some popcorn and snuggle up on the couch for a cozy evening in.
8. Go stargazing. Find a good spot, bring a blanket and hot drinks, and spend an evening under the stars. This beautiful and peaceful activity will cost you nothing but your time.
9. Take a trip down memory lane. Get out that box of old photos or dust off that old VCR and watch your wedding video if you're married. Rekindle those butterflies by submerging yourselves in the memories of the love and laughter you've shared through the years.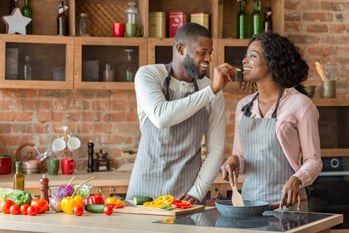 10. Cook together. You can either choose a recipe to make from scratch or try a cooking kit. Not only is this a fun, interactive activity, it will end with a homemade meal that you can enjoy together. Add a candle and a bottle of wine and you have yourself a romantic dinner at home.
No matter how you choose to celebrate Valentine's Day, the most important thing is to spend quality time with your loved ones. By being creative and resourceful, you can find ways to celebrate the holiday that are meaningful and affordable.