At Osgood Bank, we believe that a dedicated team makes a difference when it comes to customer experiences. Allow us to introduce you to the amazing people who are committed to helping you do well and be good.
Positive, creative, and funny, that's how she describes herself. I don't think I've ever seen this woman without a smile on her face, so I would have to agree. Let's meet Mindy, one of our fantastic credit analysts.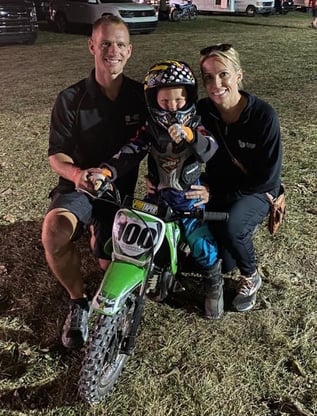 Tell us about your role with Osgood Bank.
About two years ago, a previous coworker recommended me for an open credit analyst position at Osgood Bank. As part of the team, I spend my day analyzing financials for current and prospective borrowers. My role allows me the opportunity to review financials for a variety of industries, but I have a fondness for reviewing agricultural requests. Once the financials are analyzed, I get to work hand-in-hand with our lending staff to mitigate risk on the request.
Which of Osgood Bank's values most resonates with you and why?
Unity & Teamwork. As I am still growing into my credit analyst role, I am not shy about picking up a complicated request because I know that I have a team available to assist me in any way needed.
Tell us more about you.
I was born and raised in Versailles, Ohio. I have a Bachelor's degree from The Ohio State University in Agricultural Business and Applied Economics. Outside of work, I love spending time with my husband and our three boys. Together, we spend our free time watching and playing sports. Which sport depends on the season, but it's typically football, baseball, and hockey.

I also volunteer for a non-profit preschool called Kinder Korner Inc, in Versailles. It's a wonderful way to be involved with my children's education and within my community.
Just for fun...
Q: Which cancelled TV show do you wish was still on?
Mindy: Home Improvement. Tim "the tool man" Taylor
Q: If you got an unexpected day off work, what would you do with your free time?
Mindy: I would catch up with a friend or family member for lunch.
Q: What is your favorite quote?
Mindy: "The same boiling water that softens the potato hardens the egg. It's about what you are made of, not the circumstances."