Osgood Bank Continues Pattern of Strong Growth in 2022
Similar to 2020 and 2021, 2022 was an extremely difficult year for businesses and consumers to navigate. Inflation was at historic highs, as was the pace of interest rate movements. Despite these challenges, Osgood Bank again experienced strong growth and earnings, while simultaneously taking care of our customers, communities, employees, and shareholders.
Home Lending
Mortgage rates in 2022 were among the highest in almost 15 years and existing home sales experienced the second-lowest monthly reading in 20 years this past November. While home prices are coming down nationally, the average cost for a new home in 2022, based on construction loans Osgood Bank originated, was $275 per square foot. This was up from $242 per square foot in 2021. Osgood Bank will continue to try to find ways to support home lending, including creative construction loan products to support the local housing market.
Commercial Lending
In 2020-2021, Osgood Bank funded over 1,000 PPP loans, totaling $65MM, to help support businesses during the pandemic. However, PPP and other government stimulus packages helped pave the way for the inflationary environment in 2022. Despite some headwinds, the bank's loan balances grew by $42MM during 2022. This represented an 18% growth rate over 2021, and the majority of this growth came from commercial loans.
Deposits
The bank experienced a 5% growth in deposits during 2022 As rates have continued to increase the bank has gotten more aggressive on deposit rates to aid customer retention efforts and support future growth. If you have funds that you are looking to invest, let's talk! Not only will we provide you with a competitive rate, but the deposits will help fund loans that support economic growth.
Supporting Our Communities
With all the blessings that have come our way, Osgood Bank continually gives back. In 2022 we assisted 130 local families that were suffering hardships (medical, premature babies, funeral expenses, fire victims, foster care, unpaid school lunch balances, and more). Through the Osgood Foundation (a 501(c)(3) nonprofit organization) we helped support seven area schools, three food pantries, domestic shelters, law enforcement and other emergency departments, local libraries, and more.
Read more articles about the specific ways Osgood Bank is giving back here.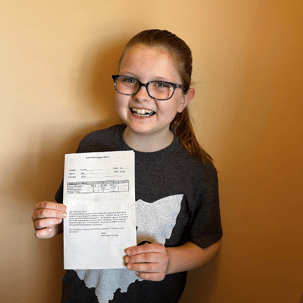 Supporting our Children
In 2022 we created an account and program designed specifically for youth savers. The "Learn Well" program is included at no cost to our customers and provides the following financial incentives for K-12 students to earn good grades:

• Earn $2 for every A
• Earn $1 for every B
Every June and July, students with Youth Savings accounts can bring in their year-end report cards to any Osgood Bank branch. Osgood Bank will credit up to $50 per student for "A's" and "B's" directly to their Youth Savings accounts to help promote healthy financial habits while recognizing our local schools and students.
Closing
Over the past decade our bank has developed a business strategy that has allowed us to mitigate the earnings and credit risk associated with the ebb and flow of economic cycles. Despite the potential headwinds that 2023 may have in store for all of us, we have a strong team at Osgood Bank that will be opportunistic and creative.